Cherry Blossom Mixer
This Saturday! April 2nd!
Vivid Solutions DC Print Lab is hosting a Cherry Blossom Mixer for photographers, models & artists this Saturday April 2nd from 6-9pm.  Shooting area will be available with a professional lighting set up for photographers & models to collaborate!! Free sample prints of your favorite shot from the night, light refreshments and drinks. This is a great opportunity to meet others in the industry.
R.S.V.P

LocatIon: Vivid Solutions DC Print Lab
2208 MLK Jr Ave SE Washington DC 20020
Call with questions! 202-758-0339 begin_of_the_skype_highlighting            202-758-0339      end_of_the_skype_highlighting
Directions:
www.vividsolutionsdc.com/print/directionsprint.html
*Hang out in Southeast, than metro (one stop over)  to PinkLine's Cherry Blast in Southwest for fireworks, music & more art! No car needed!*
————————————————————————————————–
The Arch Annual Charity Golf Classic:
Friday, April 8th
Please join P.O.S.T Construction in supporting ARCH Development and Training Center for a full 18 holes of golf at the Glenn Dale Golf Course in Maryland on April 8th at 9am. Foursomes and sponsorships are both still available. All proceeds benefit the ARCH Arts Programs and the YOUTHBUILD Program of the ARCH Training Center. Also included in the days activities is an Awards Ceremony, Silent Auction & Reception. The tournament is a great networking opportunity and 100% tax deductible!
Location: Glenn Dale Golf Course in Glenn Dale, MD
Friday, April 8th
9am tee off
More info: acavanaugh@archdc.org
————————————————————————————————–
Artist Workshops & Gallery Tour
Saturday, April 9th 2-4pm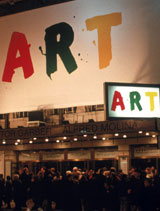 Join ARCH's Program and Outreach Coordinator, Lisa Bacon, for a tour of The Gallery at Vivid Solutions and Blank Space SE. After the tour, participates will enjoy a workshop called When Left to Your Own Devices with Artist Mia Robinson at the Hive.
Tours and workshops are free, open to the public and to all age levels. Questions and if interested in joining, please contact Lisa at Lbacon@archdc.org for more details!
————————————————————————————————–
Destino
Michelle Frankfurter
the inexorable journey across Mexico to El Sueño Americano
Opening Reception: April 15th 6pm-8pm
Location: The Gallery at Vivid Solutions
2208 MLK Jr Ave SE
More info: bferraro@archdc.org
www.vividsolutionsdc.com/gallery
————————————————————————————————–
New Clear Daze
works by Andrew Liang, David Fair, Eamon Espey & Matt Bowie
Opening Reception: April 15th 7pm
—–> Concert: music by NATE BELL at 8:30pm
(free concert partially funded by the NEA)
Location: Honfleur Gallery
1241 Good Hope Road SE
More info: arts@archdc.org